First Aid Supplies
Tillycroy Support Services specialise in First Aid and H&S requirements. We offer professional First Aid Supplies, Signage and Training Audits as part of our service.
We will ensure that no matter what business you are in, you will remain HSE/BSI compliant in the workplace. From an audit of your premises, we will make our recommendations to you, and supply the correct product to ensure you remain so.
We can offer a full corporate account service, backed up by our market leading first aid products and training in the workplace. See our HSE and Industrial Skills Training page for further details.
As part of our service:
FIRST AID AUDITS
3 MONTHLY CUSTOMER COMPLIANCE CHECKS
SINGLE SOURCE FOR ALL HSE / BSI FIRST AID KITS
SUPPLIES DELIVERED TO YOUR POINT OF NEED
We can supply everything including First Aid Kits, Plasters, Dressings, Medical Equipment, Automotive and Transport Kits. Also, we can provide a replacement service for any item used from your purchased/existing Kits.
We can also supply you with Hygiene Products:
Tillycroy Services can supply essential first aid and cleaning products to keep your workforce (and home) safe:
Bacoban – For almost 10 years, Bacoban has been the go-to disinfectant for hospitals in Germany and is now increasingly seen as the way to break the chain of infection here as well. Certified effective against COVID-19, use it to clean down almost any surface (or fabric) and that surface will stay pathogen free for up to 10 days (less for high traffic areas).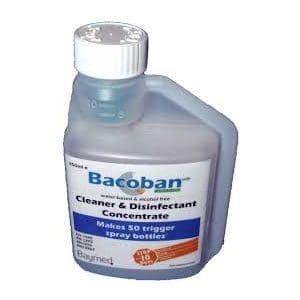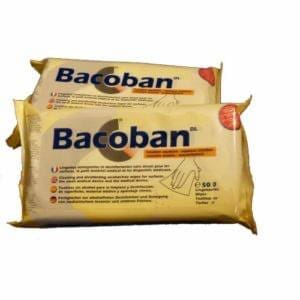 Simply dilute 5ml into a 500ml trigger spray bottle of tap water and clean/wipe surfaces to clean and disinfect at once. Leave to dry for at least 2 minutes (5 mins for viruses like Covid-19) and you're done.
A 250ml bottle can make up to 50 refills
Available in concentrate packs of 125ml, 250ml, 1 & 5 litres
Also available in packs of 50 wipes.
We can also supply infrared thermometers, face-masks and disposable gloves.
Please do not hesitate to contact us to arrange a free First Aid and Signage Audit, or to discuss any Hygiene requirements you may have. We can provide first aid supplies in Aberdeen, Scotland and nationwide.